HAPPY PI MAI-Lao New Year
April 10, 2011
THE 2011/2554 LAO NEW YEAR (LUNAR NEW YEAR) IS
CELEBRATED APRIL 14, 15, 16.
INDIGO THREADS WISHES OUR LAOTIAN
FRIENDS AROUND THE WORLD,

SABAIDEE PIA MAI.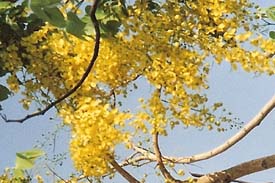 The yellow tree cluster flowers scent and flower the special anointing water at the Buddhist Temples during the Pi Mai Festival.
Boom-boom-boom as the Lao/Thai rock and roll music blasts from house to house. Thump-thump-thump as Mr. Boonswan belts out his squealing sing song from the karaoke screen. Listening carefully, from somewhere in the background, are the sweet sounds of Laotian traditional music. Howling screams of excitement pierce over 8 huge amplified speakers. An unsuspecting and or suspecting passerby has been doused with water. A dust storm trails the 20 motorbikes zooming down the dirt road.

It's 8:30 AM, 40C degrees (100F plus degrees) and it is . . . . . . .

the Lao Lunar New Year---Pi Mai Festival celeb

ration

in my village at Ban Suansavan, Pakse, Laos.
SABAIDEE, PI MAI LAO
From near and far friends, families, neighbors and friends of friends gather to celebrate the Lao Lunar New Year with dancing, drinking and good food. Long white rice noodles are a celebratory food staple. Whenever possible, Laotians travel to the village where they were born to partake in family festivities. Beer Lao is an essential beverage choice. Lao-Lao, a powerful, intoxicating moonshine rice whiskey flows freely. Children have learned to operate their newly purchased high-powered water guns, perfecting their aim. Pails of water thrown from the back of pick-up trucks, dousing everyone in range, give teenagers great pleasure. Many cell phones and business documents have been destroyed during these indiscretions. Locals know from experience to wrap anything of importance in a plastic bag for protection. This ritual is carried to the streets from the temples. It is a jester of cleansing friends of bad deeds (sins) during the past year and good luck for the coming year. Officially, the Pi Mai Festival is April 14, 15 and 16. The dates vary slightly from year to year according to the lunar calendar. It is a Buddhist Festival and a public holiday. However, it is difficult to conduct any business the week before or the week after the Festival. Laotian families make plans a year in advance for this special event. It is the most important Festival of the year

Pi Mai is a time of spiritual cleansing, an opportunity to mend stranded relationships and to give honor to deceased relatives. The Festival begins at the village temple. The monks anoint special perfumed flowered waters. Visitors then use branches to sprinkle friends and family with this special water. During this time many temples will be visited repeating the same ritual and exchanging good wishes and good luck for the New Year. Buddhist Festivals are the bases for most social interchange in Laos.
SA-BAI-DEE PI MAI, LAO UNTIL NEXT YEAR
These strange looking pods appear during January/February bursting into beautiful clusters of yellow flowers though out the trees (as seem above) just in time for the Pi Mai Festival. After the hard shell pods drop to the ground, children create imaginative toys.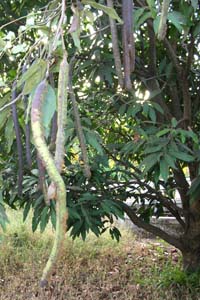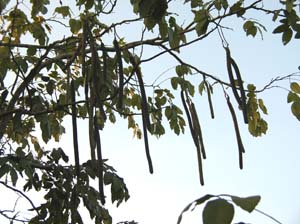 - 30 -